Party Room
We are now allowing parties to be booked online for our Raleigh location as we don't currently offer this in Charlotte yet. Please note that some changes have been implemented to ensure the safety of all our guests and staff and support local guidelines. Please review carefully before booking your event:
• Our standard waiver forms MUST be completed on-line for every minor guest prior to arrival.
• Guests can be denied entrance if there is evidence of sickness, including, without limitation, symptoms of exposure to COVID-19.
• Hand sanitizer stations are available at the store entrance and at the entrance to our Private Party Room.
• All surfaces in the Party Room will be sprayed with an EPA approved disinfectant in between party time slots.
• Parties include 2 hours of FUN in our playroom and private party room. This will include your set-up and clean up time and these times will be strictly enforced.
Our Playroom
Woodplay of the Carolinas is excited to host your event! Our 10,000 SF indoor showroom in Raleigh is filled with playsets and trampolines and is the perfect venue for Birthday Parties and any other memorable events that your family is celebrating. At Woodplay of the Carolinas, your party will be one that everyone will love as they will get to play on a huge indoor kid friendly playground with pieces of play equipment for kids of all ages, including playsets, trampolines and more. Every child attending needs a signed WAIVER by a parent or legal guardian. Please have them complete this online prior to the day of the event. Once checked in they can start enjoying our multiple play areas where they can climb, bounce, slide and use their imaginations. While they are playing you will have time to customize your party in our private party room. Please remember we are a retail store so customers can come into our showroom during normal business hours.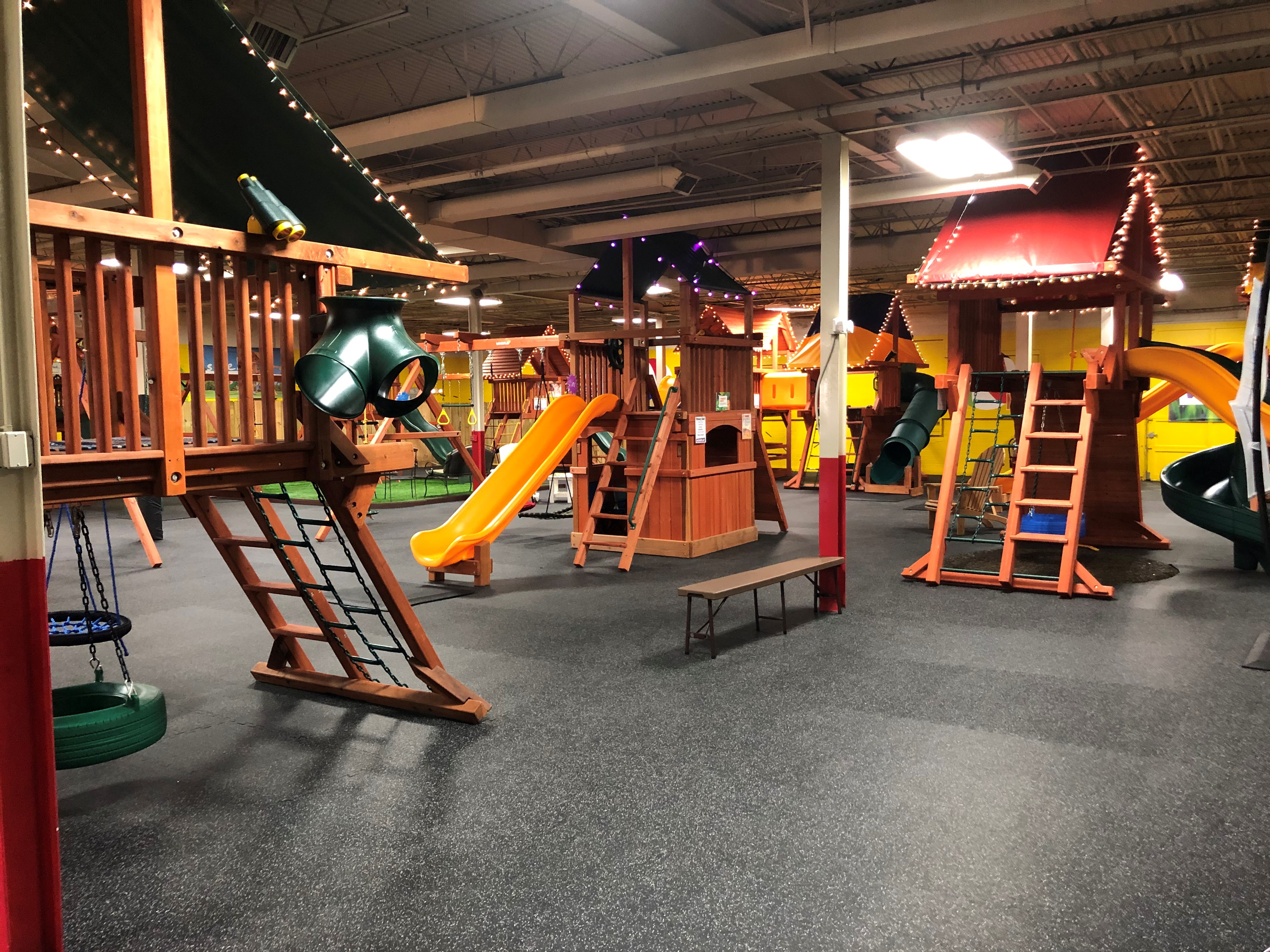 Private Party Room
We provide the FUN – you provide the decorations, food, cake, non-alcoholic beverages, candles, utensils, paper products etc. We suggest an hour of play and then transition to your private party room. All food, drinks and decorations will need to stay in the private party room. This room comes equipped with three picnic tables that can easily accommodate up to 18 party guests, bench seating, a table for food or presents, a cart to help you move things more easily and a tv to meet any of your audio or visual needs. Check our calendar below for open dates and times.